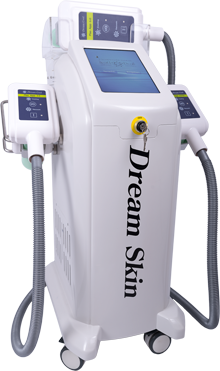 Dreamcool D28 – Device for fat handling
You can make your customer's dream come true with the DreamCool D28: Get rid of the unnecessary fat! The path to the new dream body is really simple with the new cryolipolysis procedure. The cells of the hypodermic fat tissue die through controlled cooling. The fat handling happens exclusively through processing of the subcutis which knowingly consists of conjunctive and fat tissue
Up to 10  Years warranty for all of our devices
All-in-One Starter package
Marketing packege: Website, Flyer
Stationary device – DreamCool D28
11.900,00 € incl. Tax with cash payment
---
Lose the fat with cryolipolysis
You can make your customer's dream come true with the DreamCool D28: Get rid of the unnecessary fat! The path to the new dream body is really simple with the new cryolipolysis procedure. The cells of the hypodermic fat tissue die through controlled cooling. The fat handling happens exclusively through processing of the subcutis which knowingly consists of conjunctive and fat tissue. The upper skin layer stays untouched in this procedure. Compared to other methods, the risk of visible damage is very slim. The pain perception should rather be called a sort of coldness perception.
Of course you can localize the fat handling on the desired areas.
Use this chance and show your customer this device that lets dreams come true: Get to a natural looking and attractive body without much stress and effort!
How DreamCool D28 works
Fat cells crystalize at +4º Celsius. This means that your customer can receive a nice treatment without having to worry about pain or damages to the skin. By reducing the temperature to -2º – +4º Celsius, the fat cells starve out. The body does not recognize the cells anymore and destroys them. Therefore, a visible success is possible after the first treatment. A nice side effect: By converting fat into conjunctive tissue, it can be expected that the tissue gets tightened.
To guarantee a perfect treatment of all body regions, the DreamCool D28 comes with three applicators which make the treatment much easier and comfortable
Here is a list with all advantages of the DreamCool D28:
latest technology in instrument-based fat handling
efficient body forming
fast skin improvement for more natural looks and tightness
no surgery – so no cuts, no anesthesia
decrease of risks and pains
the customer can lay down during the treatment and listen to music or read
there are no limitations regarding free time activities or work after treatment
0% financing offers
You have just started your own business and need a lot of new acquisitions? Or you finally want to pursue the long planned renovation of your salon? Yes – do it! You still don't need to miss out on high quality IPL-technologies! You can pay the previously agreed upon rates at 0% interest and have enough budget left over for other business areas.
An example for your 0% financing:
2000.00 € down payment
248.33 € / month
48 months term
Including starter set and training
7 years of warranty

Price: 13.920,00 € in

cl. tax
4000,00 € down payment
174,58 € / month
48 month term
Including starter set and training
7 years of warranty

Price: 12.379,83 € in

cl. tax