3D HIFU ULTRASOUND DEVICE 2021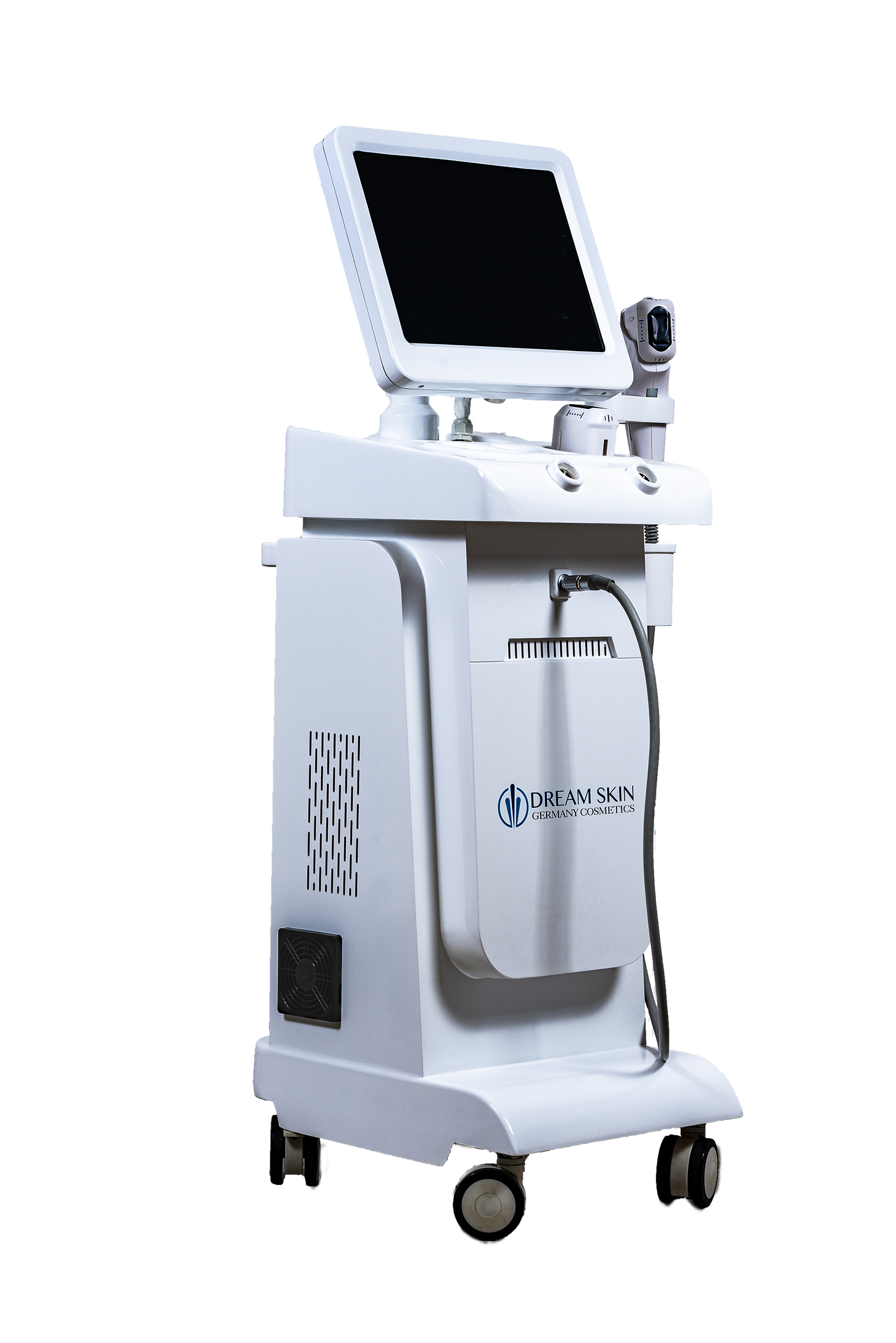 BUY OR FINANCE 3D HIFU ULTRASOUND DEVICE 2021
3D HiFu ultrasound: high-intensity, focused ultrasound. The first device with over 25,000 rounds per cartridge!
The 3D HiFu ultrasound device is the latest 3D HiFu ultrasound technology on the current market. Designed for stationary use, the device works quickly and effectively – a must for optimal treatment!
Up to 7 years warranty
Fast customer service
 0% financing possible
EAN: 4260628080068
6.960 € including tax. with cash payment(instead of 9.730,00 €)
---
Save cash now!
You don't need a Cosmetic bed or a stool?Then you can save 500 € straight away!
Or you don't need your own Website, because you already have one? Then you can also save 500 € straight away too!
---
(ATTENTION: Cosmetic bed, stool and your own website are NOT included in the starter package)
---
What is 3D HiFu?
3D HiFu is a special cosmetic non-invasive application. Ultrasound is used for cosmetic purposes on sagging areas of the skin on the face. Ultrasonic waves stimulate the body's own healing processes and at the same time also stimulate the tissue. In addition to the visually visible complexion (which quickly shows improvements), other deficits and anomalies can be treated synchronously.
Please note that our 3D Hifu system can fire 25,000 shots per cartridge. You also get 4 cartridges with 25,000 shots each for different skin depths. 2 cartridges for the face with depths: 3mm and 4.5mm. 2 cartridges for the body with the depths: 8mm and 13mm. With this new type of procedure, 286 focused (i.e. bundled) ultrasound points are released one after the other in a controlled manner within this application or treatment, of course according to a previously defined penetration depth.
---
Hifu uses ultrasound for the following treatments:
Use on wrinkles
Skin rejuvenation
Lifting applications
Pain-free facelift with 3D HiFu ultrasound
Changes in the face are often apparently caused by the loss of filling, but the slackening of the tissue also plays a role that should not be underestimated. With the latest HiFu technology, the skin reacts very quickly. The rapid regeneration of so-called collagen and elastin counteracts the loss of elasticity. As a non-invasive facial tightening treatment, HiFu is one of the most effective therapies.
The gentle and highly effective process works with light in the red wave range, which in turn is converted into pure energy. You can work selectively and extensively. By treating the hair roots, the long-lasting effect is intensified. The diode laser is ideally equipped with an exact wavelength of up to 808 nm. More precisely, the thermal development ensures that the hair is deserted. The surrounding tissue is not damaged. All skin types and hair types can be treated.
In contrast to other treatments, this focused special ultrasound works in a targeted manner and in several depths. So to speak, deep zones are created on the treated skin surface. This means that the tissue remains pretty much intact when used correctly. The treatment can also be used at different depths. The comfort is not neglected either. The application can have very positive consequences for customers and thus binds you for a longer period of time.
Finally, a few of the advantages of 3D HiFu ultrasound at a glance:
Applicable to sagging skin anomalies
Low treatment costs (as of 09/18)
Unnecessary side effects are avoided
Improved appearance
High success rate
No restrictions necessary after the treatment
3D Hifu is, so to speak, a treatment method that uses ultrasound to reach the most reactive tissue. A treatment usually lasts about 60-65 minutes. The results, however, are often visible for years to come.
After 3D HiFu ultrasound had taken the northern US market by storm, the process also came straight to Germany. In order to be able to make the 3D HiFu treatment consistently positive, quality products at a high level are required. From the age of 35, the epidermis slowly loses its firmness. The most conspicuous feature of aging is also the gross slackening of the otherwise intact eyelids of the customers.
Main applications in the areas:
forehead
Cheeks
Décolleté
Upper arms
Double chin
neck
Eyebrows
Did you know that ultrasound has been used medically for over 50 years? And so far the procedure is considered completely harmless.
Pros: Hifu treatment vs. surgical lifting, there is no downtime at Hifu. No visible irritation after treatment. Chemical substances are not used. There is no anesthesia or injections. For which zones is HiFu suitable? HiFu ultrasound is particularly beneficial for the slack areas of the face.
If you stick to a few simple rules you can positively support and promote the application. Even after using it, grooming is pretty important so that you can have a positive experience.
Here are a few pieces of advice that can be helpful:
Quit smoking if possible
Internal and external care
Healthy nutrition
Drink plenty of water
Avoid strong sun
Avoid tanning beds
We wish you every success with this successful technology.
Looking for advice? Then just give us a call or drop by!
No training is required to offer this treatment yourself.
You will of course receive a training in order to actually achieve optimized treatment success.
0% financing offers
You have just started your own business and need a lot of new acquisitions? Or you finally want to pursue the long planned renovation of your salon? Yes – do it! You still don't need to miss out on high quality machines! You can pay the previously agreed upon rates at 0% interest and have enough budget left over for other business areas.
An example for your 0% financing:
2000,00 € down payment
127,50 € / month
48 months term
4 years warranty
Please note that our 3D Hifu system can fire 25,000 shots per cartridge. You also get 4 cartridges with 25,000 shots each for the different skin depths. 2 cartridges for the face with depths: 3mm and 4.5mm. 2 cartridges for the body with the depths: 8mm and 13mm.

Price: 8.120 € 

 incl. tax
Data about 3D Hifu:
Modell: DS Hifu 3D
Screen: 15 inch color touch screen
Shots per cartridge: 25.000
Treatment head cartridges: 1,5mm/3mm/4mm/6mm/8mm/13mm/16mm
Energy: 0,1-2,0 j/cm
Power supply: 220-240V,50-60Hz
Size: approx 44cmx36cmx120cm(LxWxH)
Net weight: approx. 16 kg
Weight: approx.16kg
Frequency: 4MHz / 10MHz (depending on the cartridge)
Penetration depth: 10MHz: 1,5mm | 7MHz: 3.0 mm, 4.5 mm | 4MHz: 6mm, 8mm , 13mmm , 16mm