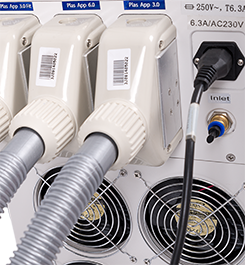 Use our extensive service package
Besides premium devices, we offer premium service. At Dream Skin, you receive a complete set when purchasing or renting an IPL device.
Whether it's a starter set, device maintenance, customer service or advertisement – we strive to offer you the best possible service and support you with your business!
---
Your personal starter set when purchasing the DreamCool
The starter set is designed for your needs and contains everything you need to start with your cosmetic device. From hygiene articles to administrative help, this package contains everything to successfully start the treatments. Get more information about our lucrative starter set today.
Customer service
Our customer service team is on hand with help and advice and helps you solve your problems. No matter which problems need to be solved – we are here for you! Dream Skin offers a quick and professional repair of your devices in the chosen partner shop or the exchange of broken parts.
Service and Maintenance
In order to avoid wear and tear on the device, a regular maintenance is inevitable. At your place or in our location – we take care of everything and make the maintenance work as pleasant for you as possible. You get a complete service package for the entire rental duration: Maintenance of all devices (also external machines), spare parts depot and repairs.

Benefit from our first-class all-round service and start your new existence with us!