Buy, rent or finance ICE LASER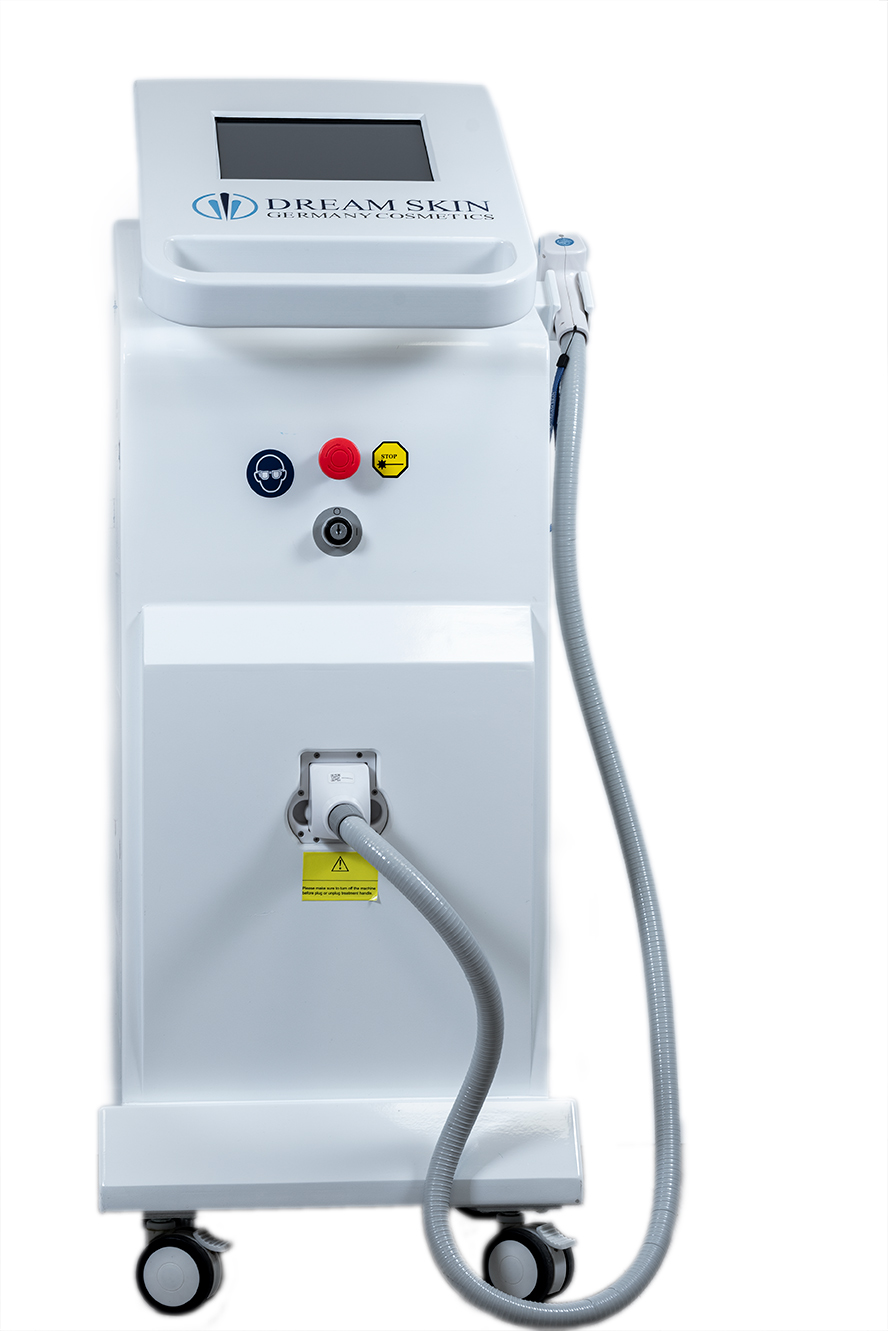 ICE-LASER DS DIOD 808 – MODELL 2021
With 3 wavelengths for permanent hair removal and treatment of problem areas. Optimal convenience thanks to the new ICE freeze cooling
This product is one of the newest 3-wavelength diode lasers. Designed for stationary use, the diode laser works quickly and effectively – a must for optimal treatment!
Unique on the market: Up to 25,000,000 (million) shots (according to the operating instructions)
Up to 10 years warranty on ICE lasers
All-in-One Starterpaket to every diode laser
Fast customer service
Diodenlaser 0% financing
Lounger, stool and your own website!
EAN: 4260628080013
16.240 € including tax. with cash payment(instead of 21.115,00 €)
---
Save cash now!
You don't need a Cosmetic bed or a stool?Then you can save 500 € straight away!
Or you don't need your own Website, because you already have one? Then you can also save 500 € straight away too!
---
(ATTENTION: Cosmetic bed, stool and your own website are NOT included in the starter package)
---
Permanent hair removal with an ICE laser
Gentle hair removal is easier than ever with this high-end free-standing diode laser. With the high-quality Ds Diod 808 in an elegant design, you can take your cosmetic studio to a whole new level. Many people shave difficult parts of the body every day or grow and pluck with a lot of effort to achieve the desired result. The long-term effect is certainly not achieved with it, but this fantastic diode laser was specially designed for this purpose. Incidentally, this procedure makes pain a thing of the past. The flexible handling has been almost perfected thanks to the lightweight construction.
---
Diode laser DS 808 – new device rental offer:
Diode laser DS 808 – new device rental offer:
Deposit: € 4,000
Minimum term: 6 months
Monthly rent: € 580 including VAT.
---
ICE laser for gentle treatment
The gentle and highly effective process works with light in the red wave range, which in turn is converted into pure energy. You can work selectively and extensively. By treating the hair roots, the long-lasting effect is intensified. The diode laser is ideally equipped with an exact wavelength of up to 808 nm. More precisely, the thermal development ensures that the hair is deserted. The surrounding tissue is not damaged. All skin types and hair types can be treated.
Interesting facts about the 2021 ICE laser:
There is cooling in the handpiece
Variable Anpassung der Impulsdauer
Variable adjustment of the pulse duration
Flexible handling of the diode laser
No additional anesthesia required
Can be used for all skin types
Not comparable to IPL-SHR devices
Fast success through ideal conditions
Very low maintenance
Why buy an ICE laser?
The answer is short but precise. The right equipment often makes the difference between the success and failure of a service provider. This sophisticated piece of technology puts some other diode lasers in its class in the shade when it comes to important issues such as handling and flexibility, which are important for comfort. In turn, your customers will thank you by welcoming you to their branch. Our experiences so far and the feedback from our customers have been very positive.
What is the difference to other hair removal procedures?
A real ICE laser differs from other application methods (such as the classic IPL) through a highly developed light source. In the technical language used, this source is simply called a diode. According to the developers, a good diode in the ICE laser should be able to be used with a constant output. The laser light from the diode laser works on an optimized wavelength (808 NM), which is why it is often used for hair removal.
ICE laser 2021: The new technology with 3 wavelengths.
The wavelength used and the pulse energy used ensure optimal results within an average of 3-6 treatments. The sliding process used here ensures painless treatment and long-lasting results. A modern menu navigation and a fairly compact handpiece make the diode laser relatively easy to use. The treatment will be very pleasantly calm and quiet for your customers, which of course further increases the comfort. And the more relaxed your customer is, the more customer loyalty is promoted and maintained.
Optimal treatment options through:
A unique ICE freezing diode laser handpiece
A powerful once-through water pump
Super strong diode fields
Designed for all skin and hair types
Intuitive software with preset parameters
Design from Germany
Latest ICE freezing technology 2021
Immediate cooling through ICE freezing
Shots 25,000,000 (25 million) as stated in the instruction manual
Ergonomic handle
Super big spot
Your free starter set
The starter set is a special offer for start-ups and existing cosmetic studios that would like to expand. It is important to us that you can start with treatments with your new device right away and that you can win new customers – all that without dealing with hidden costs.
You can lay any more customers or miss a question before Laser treatment. Because nothing is more important than really to know every detail of your customers, otherwise no one hundred percent success is guaranteed and you give only money.
The starter pack is a special offer for start-ups and existing beauty salons who wish to expand.
It is important that you can start using your new device directly into the treatments and you manage to win new customers for themselves – to have to take the whole thing with no hidden costs in buying.
When you purchase an ICE LASER device, you will receive this set:
Cosmetic bench
Stool with wheels
Marketing package with a personal website
ICE LASER Training
2 treatment goggles
2 transportation boxes (for possible repairs)
5 liter contact gel
Disinfectant spray
Wooden spatula for gel application
Latex gloves in fitting size
Up to 10 years warranty on your ICE LASERI device
Treatment plans
10 gel packs
100 gloves size M
100 wooden spatulas for gel application
Training documents
Certificate for up to 3 people
Documents for your treatment start
Unterlagen für Ihre Selbstständigkeit
Documents for your self-employment
Customer files
Documents
Documents for your treatment start
0% financing offers
You have just started your own business and need a lot of new acquisitions? Or you finally want to pursue the long planned renovation of your salon? Yes – do it! You still don't need to miss out on high quality Laser-technologies! You can pay the previously agreed upon rates at 0% interest and have enough budget left over for other business areas.
An example for your 0% financing:
3000,00 € down payment
300,00 € / month
48 months term
Including starter set and training
7 years warranty

Price: 17.400 € 

 incl. tax
5000,00 € down payment
258,33 € / month
48 month term
Including starter set and training
7 years warranty

Price: 17.400 €

 incl. tax
Data about the diode laser:
Modell: ICE laser – Ds Diod 808
Screen: touch screen
International laser class: Class 4
Laser type: ultra-pulsed diode laser
Aiming beam: Optical red beam / acoustic signal
Wavelength: 808, 755, 1064 nm +/- 5 nm
Languages: German, English, French, Russian
Diode laser cooling system: Closed water cooling circuit, treatment head with contact cooling
Diode laser pulse length: 5 ms – 400 ms
Power supply: 220-240 V, 50 – 60 Hz
Net weight: approx. 48 kg
Size : approx. 51 cm / 46 cm / 121 cm (L / B / H)
Lifetime of the laser head: up to 25,000,000.00 shots (according to the operating instructions)