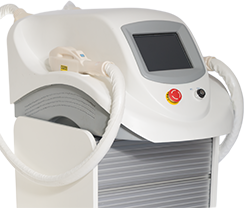 IPL Device S09
DThe IPL device S09 shows a high level of workmanship and technology and has been designed for the mobile use at the customer's location.
4 Years of all devices
All-in-One Starter package
Marketing packege: Website, Flyer
Used mobile or stationary
5.568,00 € incl. tax (instead of 10.948,00 €)
---
Your first choice for the mobile usage at the customer
The IPL device S09 shows a high level of workmanship and technology and has been designed for the mobile use at the customer's location. The highlights of this device are the enormous performance strength and the simple handling, which allow for a gentle treatment. The special software handling also contributes to a better treatment success.
The modern cooling system must be mentioned as a special innovation. The engine performance and the multiple cooling system are made for a high workload, i.e. through permanent operation. Despite a high Joule number, the customer is at no risk of high heat or burning thanks to the water, air and electrical cooling system. The temperature of the contact surface is at a nice -4º Celsius during the treatment.
Your free starter set
The starter set is a special offer for start-ups and existing cosmetic studios that would like to expand. It is important to us that you can start with treatments with your new device right away and that you can win new customers – all that without dealing with hidden costs.
You can lay any more customers or miss a question before Shr treatment. Because nothing is more important than really to know every detail of your customers, otherwise no one hundred percent success is guaranteed and you give only money.
The starter pack is a special offer for start-ups and existing beauty salons who wish to expand.
It is important that you can start using your new device directly into the treatments and you manage to win new customers for themselves – to have to take the whole thing with no hidden costs in buying.
When you purchase an IPL device, you will receive this set:
Cosmetic bench
Stool with wheels
Marketing package with a personal website
IPL Training
2 treatment goggles
2 transportation boxes (for possible repairs)
5 liter contact gel
Disinfectant spray
Wooden spatula for gel application
Latex gloves in fitting size
4 years warranty on your IPL device
Treatment plans
10 gel packs
100 gloves size M
100 wooden spatulas for gel application
Training documents
Certificate for up to 3 people
Documents for your treatment start
Unterlagen für Ihre Selbstständigkeit
Documents for your self-employment
Customer files
Documents
Documents for your treatment start
Customer files
0% financing offers
You have just started your own business and need a lot of new acquisitions? Or you finally want to pursue the long planned renovation of your salon? Yes – do it! You still don't need to miss out on high quality IPL-technologies! You can pay the previously agreed upon rates at 0% interest and have enough budget left over for other business areas.
An example for your 0% financing:
1000.00 € down payment
112.08 € / month
48 months term
Including starter set and training

Price: 6.380,00 €




(statt 10.948,00 €)

 incl. tax
Product information
A really great feature of this device is the enormous level of performance with 50 Joules per centimeter. Furthermore, the easy handling and the IPL 2 software control lead to improved treatment successes.
The device comes with 2 different sized hand pieces. You can treat smaller as well as larger areas with it without having to change the hand pieces.
Technical Infos
Works without impulses
4 year warranty
3 shots within 1 second
Lamp lasts for at least 150,000 impulses
Low operational and consequential costs
2 hand pieces with 2 connections on the device
Light source: intensive pulse light xenon lamp
Spectral range (IPL): SR 560-1200nm, HR 690-1200nm
Energy density (IPL)
Control panel: colored touch screen
Software: intelligent pulse sequence with pauses
Impulse length: 1 – 100 ms
Speed: 2 – 3 seconds
Impulse trigger: button on hand piece
Cooling: Water-Air- & Conductor cooling
Measurements: H/D/W 310*720*305 mm
Weight: ca. 35kg
Area of treatment: HR 15 x 60 mm/ SR 8 x 34mm